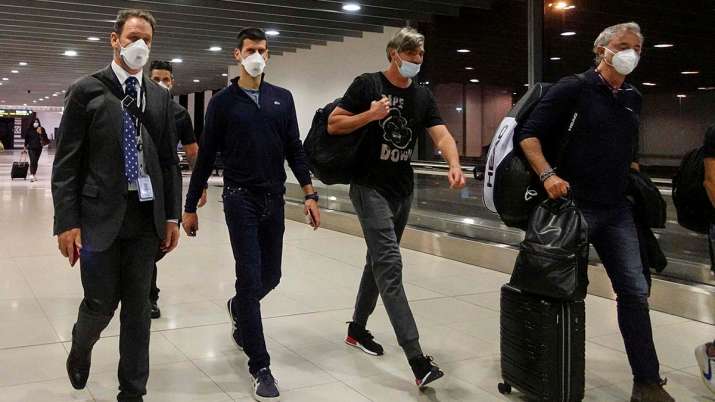 Djokovic returns to Serbia, questions raised about playing in French Open
Belgrade. Novak Djokovic returned home on Monday after missing out on a chance to defend the title at the Australian Open, but he could face a new problem. He could also be barred from playing in this year's French Open if he does not get the Kovid-19 vaccination. When the plane carrying the world's number one player reached Serbia, Australia's tough policy related to the epidemic also ended the first chapter of a two-week dramatic development over Djokovic's deportation from the country.
Djokovic was welcomed at Belgrade airport by some fans carrying the Serbian flag. Most of them believed that Djokovic was ill-treated in Australia. But their troubles are not over yet. He could also be barred from playing in the French Open this year. According to a new law, people who have not been vaccinated can be thrown out of stadiums and other public places.
This Indian bowling has been the most challenging in my career so far: Pietersen
Christophe Castner, a member of the French parliament, said a new law would prevent people from visiting sports venues, restaurants and other public places who have not been vaccinated and would apply to anyone who wants to play in tournaments. Will happen. A lot could change by the time the tournament starts in late May but it is almost clear that what happened in Australia was not limited to just there and Djokovic could face similar troubles going forward.
However, many things have not yet been clarified about this law, such as people who have recently recovered from Kovid-19, as happened with Djokovic. Earlier, Djokovic reached Serbia via the United Arab Emirates. He reached Dubai from Melbourne after a thirteen-and-a-half-hour flight by Emirates flight.
After this he caught a flight to Belgrade, the capital of Serbia. Vaccination is not mandatory for passengers in Dubai but they are required to show a negative RT-PCR report before boarding the flight. Nine-time Australian Open and 20 Grand Slam winner Djokovic's visa has been revoked twice in Australia because he did not meet the criteria required for medical exemption in strict corona vaccination rules.
He won the legal battle against visa cancellation for the first time but lost the second time. The same players, officials and spectators have got entry in the Australian Open who have got both the vaccines for the corona virus.
!function (f, b, e, v, n, t, s) {
if (f.fbq)
return;
n = f.fbq = function () {
n.callMethod ? n.callMethod.apply(n, arguments) : n.queue.push(arguments);
};
if (!f._fbq)
f._fbq = n;
n.push = n;
n.loaded = !0;
n.version = '2.0';
n.queue = [];
t = b.createElement(e);
t.async = !0;
t.src = v;
s = b.getElementsByTagName(e)[0];
s.parentNode.insertBefore(t, s);
}(window, document, 'script', '//connect.facebook.net/en_US/fbevents.js');
fbq('init', '1684841475119151');
fbq('track', "PageView"); ,