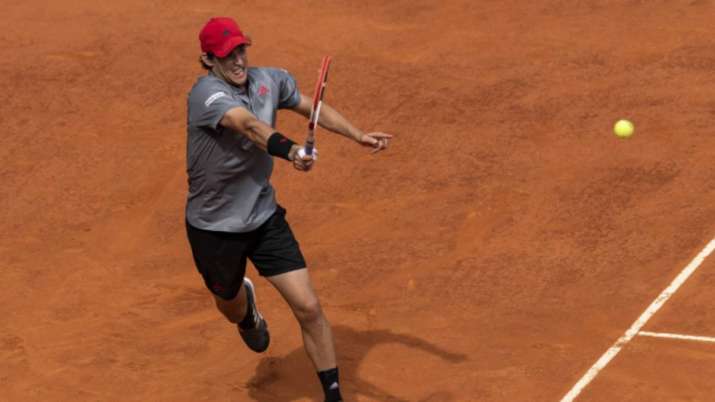 Dominic Thiem Pulls Out Of Events Leading Up To Australian Open
Sydney. Austrian tennis star Dominic Thiem has pulled out of the upcoming ATP Cup and Sydney ATP 250 Cup due to a wrist injury. The player, who is ranked 15th in the ATB rankings, has been battling this injury for a long time. Thiem will decide on his participation in the Australia Open at the end of December.
The ATP Cup will begin on New Year's Day, while the Sydney Classic will be held from January 9 to 15 and the Australian Open will begin two days later at Melbourne Park on January 17.
India's tour of South Africa to be held in closed doors, CSA made a big announcement
The 28-year-old had not participated in a cup since June. When he was playing in the Mallorca Championship, he suffered a right hand injury.
In a lengthy post on social media, Thiem wrote, "After talking to our team, we have decided to return to Austria instead of flying directly to Australia." He also withdrew from the Mubadala World Tennis Championships in Abu Dhabi.
I have a lot to learn and a long way to go – Kyle Jamieson
He said, "I had a cold in Dubai. I got the Kovid test done where my report came negative. I have not been able to practice last week due to ill health. So I withdrew from the ATP and Sydney ATP Cup. Because I'm not fully prepared."
"For the past six months I haven't competed in any competition, I was ready to return to competitions very soon, but I don't want to take the risk, my goal is still to play the Australian Open," he said.
Thiem will take a final call on his participation in the Cup by the end of December." Thiem had achieved his career-high ATP ranking of number three in March 2020.
(With IANS Inputs)
!function (f, b, e, v, n, t, s) {
if (f.fbq)
return;
n = f.fbq = function () {
n.callMethod ? n.callMethod.apply(n, arguments) : n.queue.push(arguments);
};
if (!f._fbq)
f._fbq = n;
n.push = n;
n.loaded = !0;
n.version = '2.0';
n.queue = [];
t = b.createElement(e);
t.async = !0;
t.src = v;
s = b.getElementsByTagName(e)[0];
s.parentNode.insertBefore(t, s);
}(window, document, 'script', '//connect.facebook.net/en_US/fbevents.js');
fbq('init', '1684841475119151');
fbq('track', "PageView"); ,