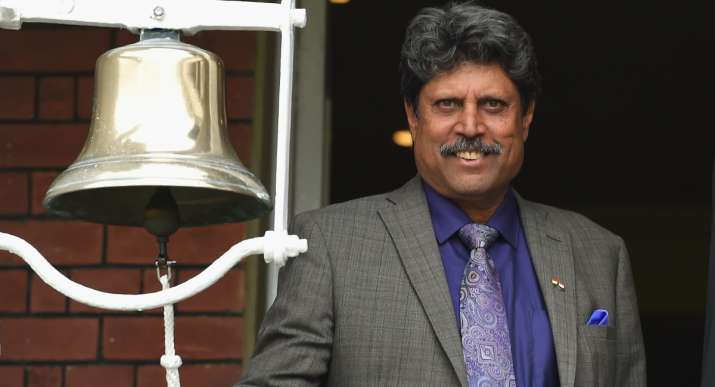 Happy Birthday Kapil dev Kapil dev birthday Kapil dev 1983 World cup Movie Kapil dev Indian cricketer sports Indian cricket team
Highlights
Today is the 63rd birthday of former legendary cricketer and Indian captain Kapil Dev.
India won the World Cup title for the first time in the year 1983 under the captaincy of Kapil Dev.
Recently, a film named '83' has also been made on this veteran and the year 1983 World Cup.
Kapil Dev, one such name of Indian cricket which has become 'immortal'. This name will be discussed for many generations to come. Today is the 63rd birthday of this great player and the legend who got the Indian team the world's first title. Well, there are many stories about them. Every single match in his cricketing career is full of achievements but the way he took Indian cricket to the top is amazing in itself.
Kapil was born on January 6, 1959 in Chandigarh, Punjab. Kapil Dev was from a simple family. After partition, his parents immigrated to India and started a lumber business in Chandigarh.
From childhood, he was inclined towards sports. Kapil made his debut in cricket at the age of about 14 and Kapil, who studied at DAV School in Chandigarh, got his first chance in the Sector-16 team here. Kapil did a bang for this team and he was noticed by coach Desh Prem Azad.
Desh Prem Azad had realized in the very first time that Kapil would go ahead and become a big player and he started carving this great player of the future and for the first time in 1978 this player made his debut for the Indian team.
Courage was seen in the debut match itself
Kapil Dev, who made his debut against Pakistan on 16 October 1978, had already shown how aggressive he was in the match. When Kapil Dev got the opportunity to bat, the entire team of Pakistan fell behind him.
The Pakistani players started sledging him as soon as he got ready to bat by taking the leg stumps of the guard.
Kapil, who was making his Test debut, opened his account by hitting a four on the first ball itself. He also hit a four on the second ball and got out on the third ball. Kapil, who scored just eight runs in his first match, wreaked havoc in the bowling that forced the Pakistani batsmen to wear helmets.
world cup 1983
This year was very special for India. In this World Cup played in England, the Indian was being judged very weak but under the leadership of Kapil, Team India reached the final. India faced West Indies in the final. In that era, West Indies ruled the world cricket but under the leadership of a perky captain, India won the final of the World Cup and won the title for the first time.
In the final, the Indian team scored 183 runs. In this low-scoring match, it seemed that the Indian team would not be able to win this match, but under the leadership of Kapil Dev, India wreaked such havoc in the bowling that the West Indies team was reduced to 140 runs. In this way, the Indian team won this match by 43 runs.
Kapil Dev played a total of 8 matches in this World Cup in which he scored 303 runs and also took 12 wickets. A film named '83' was also made on this historic World Cup, in which Ranveer Singh played his character.
175 runs
In the 1983 World Cup, Kapil Dev did what no one expected the world to do but unfortunately there is no glimpse of it. In this World Cup, Kapil Dev played a historic stormy innings of 175 runs against Zimbabwe. Kapil's innings was special because India had lost their five wickets for just 70 runs in the match.
After this Kapil came to the field to bat and he, along with Syed Kirmani, blew up the bowlers.
However, it is a matter of regret that neither any video nor any picture of this memorable innings of Kapil exists. In fact, on the day this match was played, there was a BBC strike due to which it could not be broadcast.
Kapil Dev's golden career
Kapil Dev represented India in 131 Tests and 225 ODIs for India. This great all-rounder of India scored 5248 runs in Test cricket. He scored 27 fifties and 8 centuries in this format with the best score of 162 runs. At the same time, he scored 3783 runs in ODIs. In this format, Kapil Dev scored 14 half-centuries and one century.
Apart from batting, he wreaked havoc in the bowling. With his lethal bowling, he took 434 wickets in Test cricket while he has 253 wickets in ODIs.
Kapil off the field
Kapil Dev, the icon of Indian cricket, became very popular outside the ground as well. He has been awarded Padma Bhushan along with Arjuna Award in sports. Apart from this, he has also served in Indian cricket as a coach.
Along with this, Kapil has been seen as a cricket expert on many television channels for the last few years. Recently he suffered a heart attack but after treatment he is fine and on the occasion of his birthday, the whole nation wishes this great player a ripe age.
!function (f, b, e, v, n, t, s) {
if (f.fbq)
return;
n = f.fbq = function () {
n.callMethod ? n.callMethod.apply(n, arguments) : n.queue.push(arguments);
};
if (!f._fbq)
f._fbq = n;
n.push = n;
n.loaded = !0;
n.version = '2.0';
n.queue = [];
t = b.createElement(e);
t.async = !0;
t.src = v;
s = b.getElementsByTagName(e)[0];
s.parentNode.insertBefore(t, s);
}(window, document, 'script', '//connect.facebook.net/en_US/fbevents.js');
fbq('init', '1684841475119151');
fbq('track', "PageView"); ,