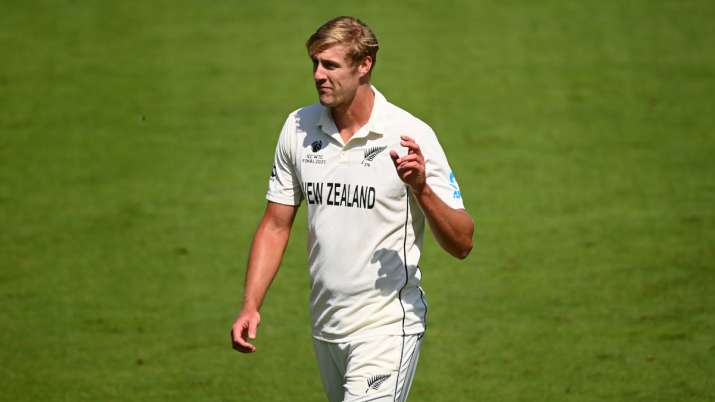 I have a lot to learn and a long way to go – Kyle Jamieson – I have a lot to learn and a long way to go – Kyle Jamieson
Highlights
Kyle Jamieson has played 5 ODIs and 8 T20Is for New Zealand.
He says he still has a lot to learn and a long way to go in terms of skill in white ball cricket.
He is the fastest bowler to take 50 wickets for New Zealand in Test cricket.
New Delhi. Kyle Jamieson has had a lot of success in four of the five Test matches he has played against India, but the New Zealand pacer credits the team's experienced bowlers Trent Boult and Tim Southee. The bowler, who took 50 wickets (in nine Tests) in the lowest number of matches for New Zealand in Test cricket, said in an interview to PTI that he still has a lot to do in terms of skill in white ball (limited overs) cricket. There is learning and a long way to go.
Jamieson said, "There is a long way to go in my career from where I am in my game. I still have a lot to learn."
Rafael Nadal found infected with Covid-19, tweeted information
The fast bowler, who took a total of 52 wickets in 10 Tests, including 22 in five Tests against India, said, "Can't predict what is going to happen in cricket but I have to constantly improve my game." Sometimes you have to take a step back and improve your skills. We have to win ICC tournaments in the coming days.
Asked about his brilliant bowling performance against India, he said, "I think I have been lucky many times and out of those five (Test) matches I have played three matches in favorable conditions. I have always said that I consider myself lucky to be playing with players like Trent, Tim and Neil Wagner.
Sindhu, Srikanth and Lakshya will be the highlights of India Open 2022
"When we play at home, we often have four fast bowlers in our team and the hard work of the other three bowlers pays off," he said.
Jamieson, however, proved his tall stature to perform well even in difficult conditions for fast bowlers, with six wickets on the slow and low bouncy pitch at Green Park in Kanpur.
"I didn't know how that pitch would behave and there was very little time to adjust to those conditions, so yeah, it was nice to be able to do well there," he said. ,
!function (f, b, e, v, n, t, s) {
if (f.fbq)
return;
n = f.fbq = function () {
n.callMethod ? n.callMethod.apply(n, arguments) : n.queue.push(arguments);
};
if (!f._fbq)
f._fbq = n;
n.push = n;
n.loaded = !0;
n.version = '2.0';
n.queue = [];
t = b.createElement(e);
t.async = !0;
t.src = v;
s = b.getElementsByTagName(e)[0];
s.parentNode.insertBefore(t, s);
}(window, document, 'script', '//connect.facebook.net/en_US/fbevents.js');
fbq('init', '1684841475119151');
fbq('track', "PageView"); ,