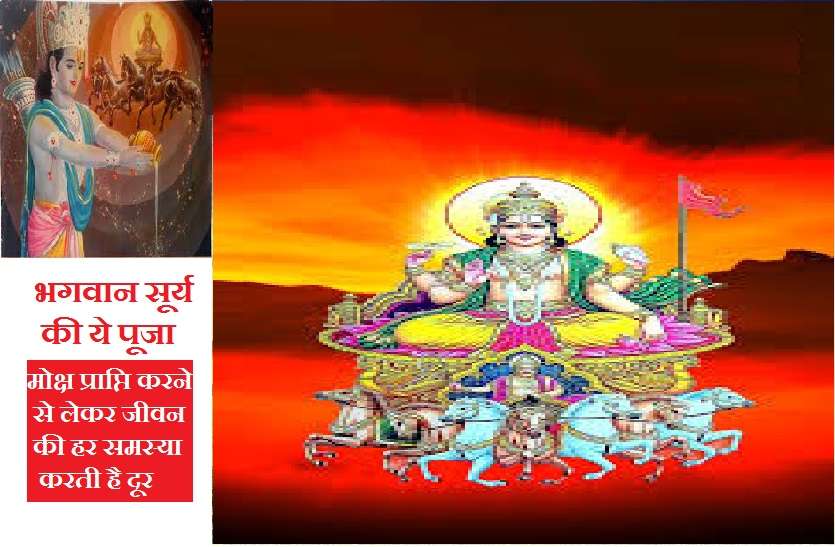 In Sawan this time this surya vrat on sunday with independence day
Bhanu Saptami 2021: Yoga of Bhanu Saptami on Sunday in Sawan
Bhanu Saptami 2021: There are many festivals and festivals in the favorite month of Lord Shiva i.e. Sawan. At the same time, both the eyes of Lord Shiva are called Sun and Moon respectively. In such a situation, this time the festival of Lord Surya Bhanu Saptami is falling on Sunday, 15th August. Generally, the sum of Bhanu Saptami is less on Sundays in Sawan, even 3 years before that i.e. in 2017 also, Saptami of Shukla Paksha of Sawan month fell on 30th July on Sunday itself.
According to the experts of astrology and religion, Sun should be worshiped in the form of Parjanya in Sawan. It is believed that by worshiping Lord Surya Narayan on this day, as a result of his blessings, all kinds of troubles of the fast are eradicated.
Apart from this, by the grace of Sun God, the seeker also gets wealth. It is believed that the Sun God is worshiped on the day of Bhanu Saptami. Oh disgusting sun By offering water with the mantra, along with increasing the memory, the mind also becomes concentrated.
Bhanu Saptami Puja
According to Pandit Sunil Sharma, on the day of Bhanu Saptami, the devotee should wear clean clothes after taking a bath in the Brahma Muhurta. At the same time, facing east or north, one should sit at the place of worship. During the worship, the Sun God should be worshiped with red sandalwood, intact, red flowers, incense, scent etc. with devotion and according to the method. After this, aarti should be done to Sun God with cow's ghee lamp and camphor.
After the aarti of Sun God, after taking Gangajal mixed water in a clean copper vessel, add Akshat, red flowers and red sandalwood and offer Arghya to the Sun God. Also during this the mantras of Suryadev'Om Surya Namah' or 'Om Ghrini Suryaya Namah' should be chanted. Salt should not be used in any way on the day of Bhanu Saptami.
Must Read- Independence Day 2021: Know this special secret related to the country's horoscope
According to Pandit Sharma, on the day of Bhanu Saptami, along with the increase in virtue by charity, Lakshmiji is also pleased. In such a situation, according to the capacity, charity should be given to the poor and Brahmins on this day. On the other hand, by observing this fast with full devotion and faith, there is never any dispute between father and son and love remains.
Story of Bhanu Saptami Vrat
According to the legend, in ancient times a prostitute named Indumati once asked sage Vashishtha that, 'Muniraj, I have not done any religious work till date but I wish that after death I should attain salvation, then how is it possible ?'
Replying to Indumati, Vashistha said that there is no greater fast than Achala Saptami or Bhanu Saptami, which gives liberation, good fortune and beauty to women. In such a situation, any woman who worships on this day with a sincere heart and observes a fast, she gets the desired result, so if you also want salvation, then you should also do this fast, keep in mind that on this day worship ritually etc. It is necessary that your welfare will be done.
After listening to Vashisht ji, Indumati observed this fast and after death she got heaven. She was made the heroine of Apsaras in heaven, on the basis of this belief, this fast is considered to have special significance.
.