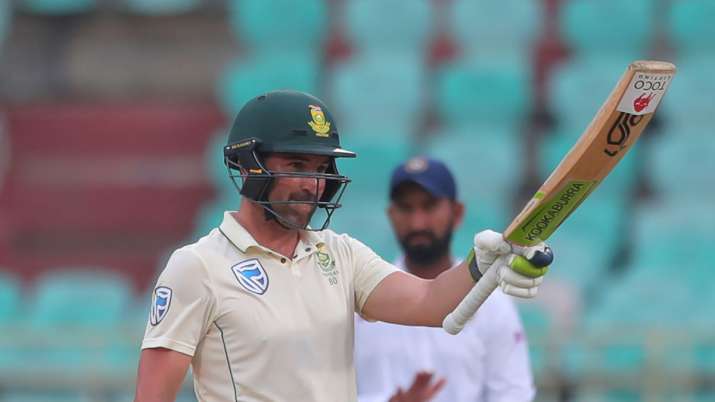 IND vs SA As players, we are used to hearing bad news Dean Elgar
South Africa is facing some controversies ahead of the Test series against India. This controversy is related to some of his former veteran players. There are allegations of racial bias against these players, but Test captain Dean Elgar says that he wants to focus his attention on the Test series against India instead of these controversies. This team has faced administrative crisis in the last 24 months and its impact is so great that Elgar does not remember who is currently running the country's cricket.
Last month, the Social Justice and Nation Building Commission (SJN) in its report accused former South African captain and current Director of Cricket South Africa (CSA) Graeme Smith, current head coach Mark Boucher and former batsman AB de Villiers for racially threatening players. He was accused of engaging in 'prejudiced conduct'.
India vs Japan Asian Champions Trophy Semifinal: Japan beat India 5-3
SJN also accused CSA of discriminating against players on the basis of race. In a virtual conversation with the media ahead of the Boxing Day Test against India, Elgar was asked a question on the current controversy related to South Africa cricket as expected, but he said that the team is not much affected by it. He said, "No, it is not difficult enough for us.
As players, in the last year and a half, we have got used to hearing bad news. We try to reconcile them. Of course it's not ideal to make headlines like this." Elgar said, "We just want to focus on our cricket. We want to focus on playing a tough series against India. It's great to be back in South Africa.
The left-handed batsman said, "For us it is all about focusing on cricket, for the next few days focusing on preparation, improving our cricketing skills."
IND vs SA: South Africa captain Dean Elgar tied a bridge in praise of Jasprit Bumrah before the test series
Elgar, however, said that dealing with instability in the CSA administration is not easy. "There is not much stability from the administration point of view. There are so many administrators that we don't even know who is doing the responsibility right now. Hopefully soon there will be more stability in CSA.
Elgar said he was sorry that the coach and team management were not getting enough support. "I think we support our coach from the players point of view, we need to give him a lot of love. I think sometimes they work so hard. This is the biggest thing (which goes unnoticed) because I know what they do behind the scenes.
Elgar said, "It doesn't feel good to see a coach facing criticism despite doing a great job behind the scenes." Asked how the constant controversy affects the team environment, Elgar said. Said that whatever happens outside the field, the players have to do their job.
(With PTI Inputs)
!function (f, b, e, v, n, t, s) {
if (f.fbq)
return;
n = f.fbq = function () {
n.callMethod ? n.callMethod.apply(n, arguments) : n.queue.push(arguments);
};
if (!f._fbq)
f._fbq = n;
n.push = n;
n.loaded = !0;
n.version = '2.0';
n.queue = [];
t = b.createElement(e);
t.async = !0;
t.src = v;
s = b.getElementsByTagName(e)[0];
s.parentNode.insertBefore(t, s);
}(window, document, 'script', '//connect.facebook.net/en_US/fbevents.js');
fbq('init', '1684841475119151');
fbq('track', "PageView"); ,