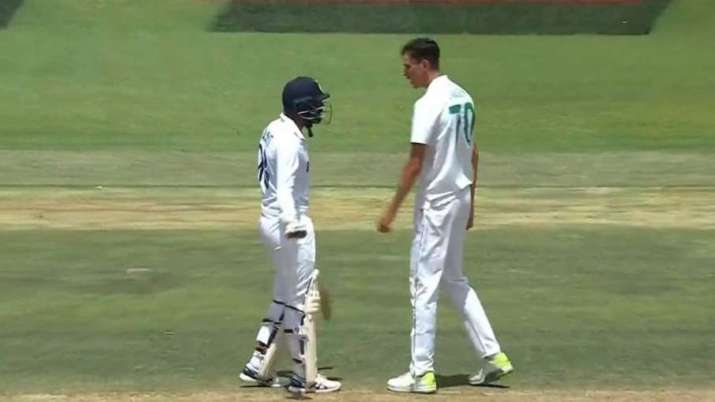 Marco Jensen said this on sledging during the match with Jasprit Bumrah
Paarl. South African pacer Marco Jensen on Monday said he has no "bad feeling" about his match-up with IPL (Indian Premier League) team Mumbai Indians teammate Jasprit Bumrah during the Test series with India. No, South Africa's team managed to win this series 2-1. There was some debate between Jenson and Bumrah during the second and third Tests.
Talking to the media through the Twitter handle of South Africa Cricket (CSA), this 21-year-old player said, "I have played with Bumrah in IPL and we are good friends. When you are playing for your country, you do not want to be suppressed by others. Sometimes the emotion comes out on the field.
Jasprit Bumrah said this about the World Cup 2023 to be held in India
"She also reacted the same way and no one has any bad feelings," he said. That was the atmosphere there. It happened between two players who were putting everything at stake for the country.
Despite his fiery personality on the field, Jenson said he has an introverted personality. "I'm a bit of an introvert off the field," he said. But I want to express myself on the field in the sport I love the most. I want to show passion and passion for the game. ,
Despite the success in the Test series, Jensen is not taking the Indian team lightly for the upcoming ODI series, he said. But we are not undermining India at all. We would like to compete with them."
The Indian team was successful in winning the series 5-1 against South Africa in 2018.
"We have to work on our preparation and be as prepared as possible. We want to give our all on the field. It would be great to win the ODI series."
He said that he did not expect to get a place in the ODI team so soon. The bowling all-rounder, who made an impact in the Test series, said, "I did not expect to get a place in the team right now. But I am very happy and honored to be selected in the team.
!function (f, b, e, v, n, t, s) {
if (f.fbq)
return;
n = f.fbq = function () {
n.callMethod ? n.callMethod.apply(n, arguments) : n.queue.push(arguments);
};
if (!f._fbq)
f._fbq = n;
n.push = n;
n.loaded = !0;
n.version = '2.0';
n.queue = [];
t = b.createElement(e);
t.async = !0;
t.src = v;
s = b.getElementsByTagName(e)[0];
s.parentNode.insertBefore(t, s);
}(window, document, 'script', '//connect.facebook.net/en_US/fbevents.js');
fbq('init', '1684841475119151');
fbq('track', "PageView"); ,