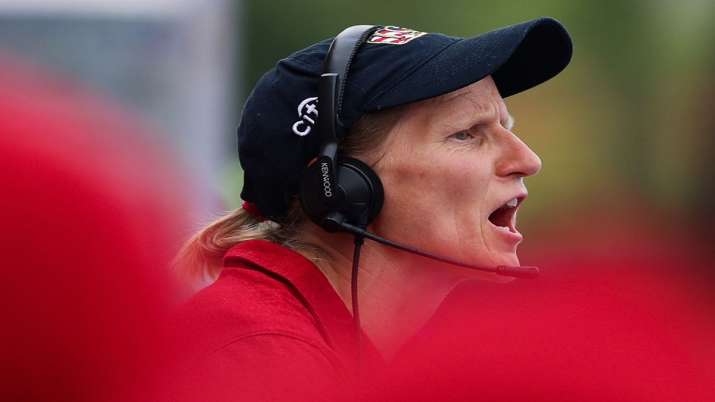 Still more hard work needed to be included in world's top-6 team: Women's hockey team coach
New Delhi. In the Tokyo Olympics, the Indian women's hockey team was just one step away from a medal and had to settle for fourth place. This was the best performance of the women's hockey team in the history of the Olympics. On this performance, the head coach of the Indian women's hockey team, Yaneke Schopman, made a big statement saying that the performance in the Tokyo Olympics was not a 'tuck' and her team wants to prove it.
Shopman said that after a stellar performance in Tokyo, she now aims to win the Asia Cup title in order to qualify directly for the FIH Women's World Cup. The World Cup will be played in Spain and the Netherlands from July 1 to 17. The Indian women's hockey team finished fourth in the Tokyo Olympics with its best performance.
"We did better than expected in Tokyo but we have to work harder to be in the top six in the world," Shopman said in a virtual press conference ahead of the Asia Cup. We have to keep doing well because these girls want to prove it. That the demonstration in Tokyo was no coincidence.
Since the Olympics, India has played only one match in the Asian Champions Trophy and had to withdraw from the tournament after a player tested positive for coronavirus. "We have played only one match since the Olympics. The Asia Cup is very important as it is a qualifying tournament for the World Cup," the coach said. We will play a balance between attack and defence. The lesson we have learned from Tokyo is to focus on what is under our control." The Asia Cup will be played from January 21 to 28 in Muscat.
(With PTI inputs)
!function (f, b, e, v, n, t, s) {
if (f.fbq)
return;
n = f.fbq = function () {
n.callMethod ? n.callMethod.apply(n, arguments) : n.queue.push(arguments);
};
if (!f._fbq)
f._fbq = n;
n.push = n;
n.loaded = !0;
n.version = '2.0';
n.queue = [];
t = b.createElement(e);
t.async = !0;
t.src = v;
s = b.getElementsByTagName(e)[0];
s.parentNode.insertBefore(t, s);
}(window, document, 'script', '//connect.facebook.net/en_US/fbevents.js');
fbq('init', '1684841475119151');
fbq('track', "PageView"); ,