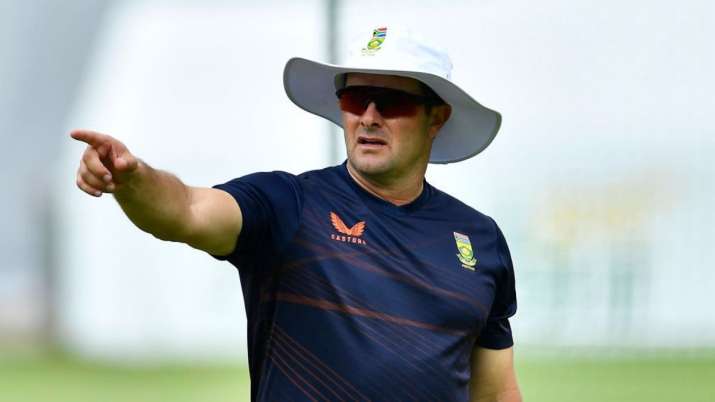 This win against India is one of South Africa's top-5 Test history: Boucher – Victory vs India "In Top 5" Of South Africa's Test History, Says Head Coach Mark Boucher
Highlights
In the last two Tests, the inexperienced Proteas easily chased down the tricky target of 200-plus in bouncy conditions
Elgar showed the way to the team in Johannesburg, while Keegan Peterson scored 82 runs in Cape Town to win the team
Boucher said he was not surprised by the team's counterattack
South Africa head coach Mark Boucher on Friday called the 2-1 win against world-ranked India one of his country's best successes in the history of Test cricket. After losing the opening Test at Centurion on Boxing Day, the Dean Elgar-led side showed tremendous spirit by winning two consecutive matches at Wanderers and Newlands.
Boucher told a post-match press conference, "Let's also look at it in the way that we lost the toss in all three matches. Many people, including some in the media, predicted our defeat after the first day of the first Test of the series. It was wonderful to come back after losing the first test match badly and win the second and third test matches."
He said, "It should be one of our top five wins. It's great to get such a good result despite the situation we were in before the series and what happened off the field. The way the entire Test series was played it was a tough fight. It was. Some good cricket happened. It should be one of the best Test series I've played in South Africa."
Prior to this series, South Africa had played only six matches under the captaincy of Dean Elgar and the team landed at the Centurion ground for a Test match after a long gap of six months. "This win will boost the morale a lot. The kind of spirit these players showed in such a short span of time is very special," he said.
In the last two Tests, the inexperienced side led by Elgar easily chased down the difficult target of 200-plus in bouncy conditions. Elgar showed the way to the team in Johannesburg, while Keegan Peterson scored 82 runs in Cape Town to win the team. Boucher said he was not surprised by the team's counterattack.
He said, "It doesn't surprise me because you have a player like Dean (Elgar) in your team. He himself leads the team with passion. You also have Temba (Bavuma) as the vice-captain. He struggles. So you have two players leading the way that people can follow."
IND v SA: Team India made this embarrassing record after losing the 7th series in South Africa
Boucher praised the contributions of Keegan Pietersen and left-arm fast bowling all-rounder Marco Jensen.
!function (f, b, e, v, n, t, s) {
if (f.fbq)
return;
n = f.fbq = function () {
n.callMethod ? n.callMethod.apply(n, arguments) : n.queue.push(arguments);
};
if (!f._fbq)
f._fbq = n;
n.push = n;
n.loaded = !0;
n.version = '2.0';
n.queue = [];
t = b.createElement(e);
t.async = !0;
t.src = v;
s = b.getElementsByTagName(e)[0];
s.parentNode.insertBefore(t, s);
}(window, document, 'script', '//connect.facebook.net/en_US/fbevents.js');
fbq('init', '1684841475119151');
fbq('track', "PageView"); ,