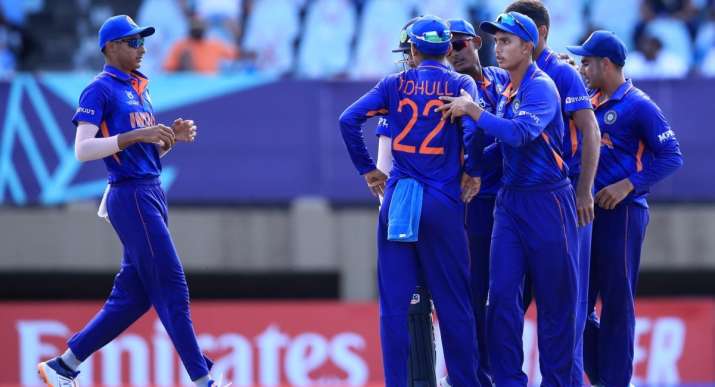 U19 World cup 2022: After a strong victory in the first match, now Ireland's challenge in front of the Indian team
Highlights
India's confidence boosts after beating South Africa by 45 runs in the first match
India beat South Africa and Ireland beat Uganda by 39 runs
In-form batsman and captain Yash Dhul will be hoping to do better from his side when record four-time champions India take on Ireland in the second match of Group B of the ICC Under-19 World Cup on Wednesday. After defeating South Africa by 45 runs in the first match, India's confidence has increased and they will also have the upper hand against Ireland. India and Ireland have won the first match.
India beat South Africa and Ireland beat Uganda by 39 runs. Against the junior team of South Africa, Dhul, the Indian batting architect, was alone as openers Harnoor Singh and Angkrish Raghuvanshi were dismissed early. Dhul added 71 runs for the third wicket with Sheikh Rashid (31). Nishant Sindhu (27), Raj Bawa (13) and Kushal Tambe (35) also made useful contributions.
Also read- IND vs SA, 1st ODI Match Preview: All eyes will be on Virat Kohli under the captaincy of KL Rahul
Dhul will be hoping for a better performance from the openers in this match so that there is no pressure on the middle order and the lower order. The bowlers performed effectively against South Africa. Left-arm spinner Vicky Ostwal took five for 28 while pacer Raj Bawa took four for 47.
India bowled out South Africa for 187 runs. The Jalandhar-born left-handed opener Harnoor top-scored for India in the Asia Cup with 251 runs and scored an unbeaten century in the warm-up match against Australia but was dismissed for one in the first match.
Also read- U19 WC 2022: Sri Lanka beat Australia to dust, West Indies and Pakistan also registered victories
Fast bowler Rajvardhan Hungergekar and pacer Ravi Kumar, who played senior cricket for Maharashtra, could not impress. In another match, Australia will face Scotland tomorrow.
Teams :
India: Yash Dhul (Captain), Harnoor Singh, Angkrish Raghuvanshi, SK Rashid, Nishant Sindhu, Siddharth Yadav, Anishwar Gautam, Dinesh Bana, Aaradhya Yadav, Raj Angad Bawa, Manav Parakh, Kushal Tambe, Rajvardhan Hungargekar, Vasu Vats, Vicky Ostwal, Ravi Kumar, Garv Sangwan.
Ireland: Tim Tector (Captain), De Burke, Joshua Cox, Jack Dixon, Liam Doherty, Jamie Forbes, Daniel Forkin, Matthew H, Philippe Le Roe, Scott Macbeth, Nathan Macaire, Muzammil Sharzad, David Vincent, Luke Wellan, Ruben Wilson .
Match time: 6.30 pm.
!function (f, b, e, v, n, t, s) {
if (f.fbq)
return;
n = f.fbq = function () {
n.callMethod ? n.callMethod.apply(n, arguments) : n.queue.push(arguments);
};
if (!f._fbq)
f._fbq = n;
n.push = n;
n.loaded = !0;
n.version = '2.0';
n.queue = [];
t = b.createElement(e);
t.async = !0;
t.src = v;
s = b.getElementsByTagName(e)[0];
s.parentNode.insertBefore(t, s);
}(window, document, 'script', '//connect.facebook.net/en_US/fbevents.js');
fbq('init', '1684841475119151');
fbq('track', "PageView"); ,